Сәлем! Rotarians and Friends,
Our Club is honored to have been selected to host an Open World Leadership delegation of Entrepreneurs from Kazakhstan September 25 - October 3, 2015.  Rotary and hundreds of other service organizations, colleges and civic groups act as host agencies for the Open World Program. The delegation will be the first ever from Kazakhstan hosted by Rotary.  Carolyn Feuille, Nancy Kemp and Dave Bunje are project team coordinators.  A very special Thank You to Carolyn, Nancy and Dave for your extensive and thoughtful preparation for our Kazakh delegation.
The Open World Kazakhstan tour is a tremendous cultural exchange opportunity for our Club and Community. This Special Open World Kazakhstan Rotario is written to provide Club members and host families with basic information about Kazakhstan and our delegation in order to prepare us for being gracious hosts.
This Rotario includes information on what is needed to support the delegation and ways you can be directly involved. We are providing links to an assortment of rich resources.  We encourage you to do further research and share your findings with interested members. Please forward this to friends, fellow Rotarians, community leaders, and others who may have an interest in this unique visit and program.
To Play video https://www.youtube.com/watch?t=11&v=QB6TI7hItrk
Open World Leadership
The program is administered by the Open World Leadership Center http://www.openworld.gov, which is an international exchange agency run by the US Congress. More than 23,000 leaders from Central Asia, mostly from the former Soviet satellite countries, have participated in the program since 1999.
Open World helps promote U.S. diplomatic, trade, political, and cultural interests. The program provides opportunities for delegates to take part in tailored, in-depth exchanges within such themes as environmental protection, education, business, democratic form of government - including rule of law and accountable governance - and entrepreneurship.  The Kazak delegation we are hosting is interested in learning about business and entrepreneurship. Read more about the Open World Program and Kazakhstan on our website at Kazakhstan Open World.
http://nevadacityrotary.org/content/kazakhstan-open-world
Nevada City Delegation
Nevada City Rotary will host a delegation of 5 young entrepreneurs plus a cultural facilitator and an interpreter.  The 5 men and 2 women range in age from mid-20's to mid-30's. Four of the group are from the capital city of Astana, one from the largest city of Almaty and one from a smaller city. Read a synopsis of their profiles at Kazakhstan Delegation
Host Families
A special thank you to our host families. The delegates will be staying in the homes of Nancy Kemp & Steve Allen, Pearce & Mary Ann Boyer, Ed & Bernadette Sylvester (GV), Ron & Nancy Knaus, Dave & Janet Bunje, Carolyn Feuille & Bob Murley, and Doug & Karen McDonald (PV).
Rich ethnic diversity of Kazakhstan displayed by variety of native attire
Delegation Activities
During their tour, the delegates will meet with local businesses, not-for-profit organizations, the Economic Resource Council, and government leaders. Local outings will include visits to sites of interest, such as Empire Mine, in and around Nevada City and Grass Valley. One day of their visit will include a trip to Sacramento for a tour of our State Capital, meetings with elected officials and a visit to Old Sacramento. A day in San Francisco is also being considered.
How can Club Members participate?
Volunteers are needed to participate in various events and provide transportation including activities locally, the visit to Sacramento and the day trip to San Francisco.
Offering support to host families to assist with day to day transportation and possible individual conflicts the hosts may be juggling.
Meeting delegates on their arrival in the Sacramento Airport on September 25 and/or returning delegates to Sacramento on October 3.
Coordination planning assistance for various events.  Thank you Shari Barley for managing the closing dinner event on Friday October 2.
Please contact Carolyn Feuille (650-867-4564 Cell or 530-446-3030 Home/Office) to volunteer and determine how you can support the Kazakhstan visit.
Special Events ~ Mark your calendar
Area-Wide Rotary Social  - Monday September 28,  5pm-7pm at the National Hotel
Farewell Dinner - Friday October 2, watch for details to be posted soon
The Country and Culture of Kazakhstan
The Embassy of the Republic of Kazakstan posts a comprehensive segment on Kazakh Culture on its website under Discover Kazakhstan. Selected highlights from the site provide a rich perspective of an ancient blend of diverse cultures and a modern Republic that has redefined itself in recent years.
Modern Kazakstan is built on 3,000 years of extraordinary history. The country's development has been influenced by such legends as Alexander the Great and Genghis Khan. For centuries, the Silk Road through Kazakhstan served as one of the world's oldest and most historically significant trade routes. All of this has contributed to the richness of the Kazakh culture and its capacity to adapt and develop. Watch a very impressive video on Kazakhstan ~ Heart of Eurasia. www.youtube.com/watch?v=QB6TI7hItrk&feature=youtu.be
The Heart of Eurasia
Kazakhstan is located in the central part of Eurasia, almost equidistant from the Atlantic Ocean and the Pacific Ocean. Throughout history, Kazakhstan was an arena for brisk commercial and political relations and it now plays an important role as a link between Europe, Central Asia and the rapidly developing Asian-Pacific region.
Kazakhstan is the largest land-locked country in the world. Less than 1/3 the land mass of the United States, the terrain of Kazakhstan is about the size of Western Europe. A former member of the Soviet Union, its neighbors include Russia to the north, the other former Soviet "stan" countries of Turkmenistan, Uzbekistan, and Kyrgyzstan to the south and China to the east. Its easternmost tip reaches out almost touching Mongolia. To the west is the Caspian Sea.  Learn more about the country's geography and culture at Kazakh Culture.
Nationalities
The people of Kazakhstan represent 130 nationalities.The largest ethnic group is the Kazakhs who are 59% of the population. Traditionally the Kazakhs are a nomadic people of three main linquistic groups often challenged by invading Arabs, Turks and Mongols. In the mid-1800s the Kazakhs turned to Russia for protection from Chinese Oryat raiders. Since then Russian influence - at times dominance - grew.
During the days of the Soviet Union, Khrushchev initiated the "Virgin Land" campaign during which large numbers of Russian and Ukrainain settlers moved into the vast, semi-arid steppes region of the north to create large collective farms. Since gaining independence from the Soviet Union, Russian population has declined.  Today Russians make up less than 30% of the population.
Economy and Government
Bloomberg Business of August 21, 2015 reports Six Facts to Know About Kazakhstan After the Tenge's Spectacular Crash.  Among the points made is the fact that Kazakhstan is not a poor nation. The World Bank describes Kazakhstan as "an upper-middle-income country with per capita GDP of nearly US$13 thousand in 2013."  Their GDP over the last decade has risen higher than that of Brazil and Russia. Kazakhstan's debt as a percentage to GDP stands at 12 percent, one of the lowest in the world.
Natural Resourses and Markets
The country is rich in natural resources including oil, uranium, copper and the world's largest known zinc deposits. The steppe land offers considerable agriculture producion of grain and livestock. The breakup of the USSR and the collapse of demand for Kazakhstan's traditional heavy industry products resulted in a sharp contraction of the economy. Kazakhstan has embarked on an ambitious diversification program, aimed at developing targeted sectors like transport, pharmaceuticals, telecommunications, petrochemicals and food processing.
The shift from a centralized state ownership to privatized market economy has been a slow process. Programs such as the Open World Leadership and US Peace Corp, technical assistance through the Asia World Bank, the growth of globlized corporate entities and consultancies, and a commitment to education serves to help promote and stabilize the transition. Education is a high priority and literacy rates average 99%.
Baikonur Cosmodrome and Space Program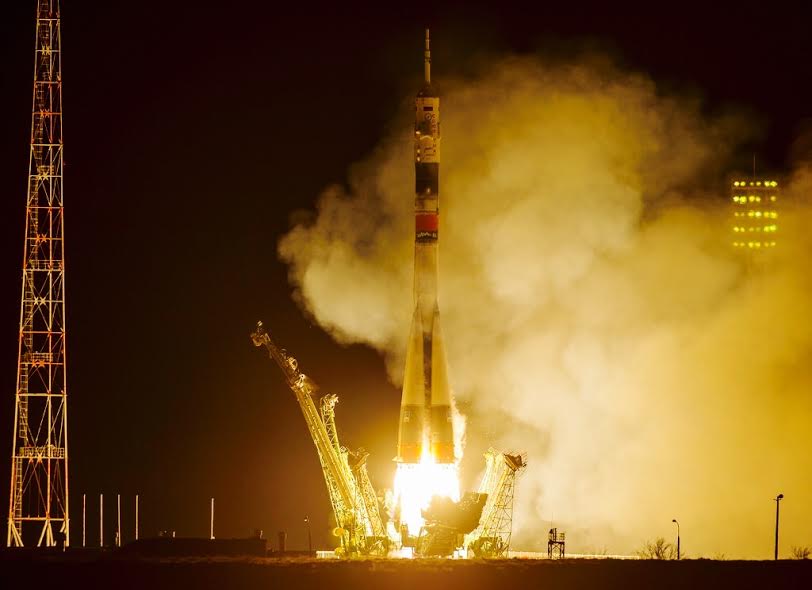 A land of contrasts, Kazakhstan is also home to the Baikonur Cosmodrome, which is the world's first and largest operational space launch facility. Developed during the Soviet Union, the cosmodrome is leased by the Kazakh government to Russia (until 2050) and is managed jointly by the Russian Federal Space Agency and the Russian Aerospace Defence Forces. In March 2015, American Astronaut Scott Kelly lifted off aboard a Russian Soyuz rocket that launched from Kazakhstan. Kelly will spend 342 days on the International Space Station -- the longest stretch of time any U.S. astronaut has spent in space.
Emerging Democratic Republic
Since gaining independence from the Soviet Union in 1991, Kazakhstan is slowly emerging as a democratic Republic, albeit with a strong totalitarian style President. Republic of Kazakhstan has three separate executive, legislative and judicial branches of government. A bicameral Parliament is composed of the Senate and the Mazhilis. The executive branch includes the President, with an appointed Prime Minister. Nursultan Nazarbayev was elected President in 1991. Reelected for his 6th term this year, Nazarbayev has served as the country's only President.  Elections are held regularly but appear to be tightly controlled with no opposition parties.    
Modern Capital Astana
In 1997 the Capital moved from Almaty to Astana. International architects submitted designs to rebuild Astana as a planned city of the future. Astana is the country's second largest city with an officially estimated population of 814,500 as of February 14, 2014. Almaty is the largest city with over 1.5 million residents. Click Astana City or image for video
Religious Freedom
Kazakhstan is a multiconfessional secular state that guarantees constitutional freedom of worship and religion to each of its 46 religious denominations. The country has earned international recognition for its promotion of freedom of religion. There are more than 2,500 places of worship of diverse religions, including 2,268 mosques, 162 Russian Orthodox churches, 86 Roman Catholic churches, and 614 Protestant Christian churches. Jewish synagogues are in Almaty, Astana, Ust-Kamenogorsk, Kostanai, and Pavlodar. 
Expand the Dialogue
Click to learn more about Kazakhstan. As you discover additional sources of information about Kazakhstan, its diverse peoples and rich history, forward to Robin Milam at news@ncrotary.org and she will expand the Kazakhstan Open World section of the Nevada City Rotary websity for your reference.
Central Asia in a Reconnecting Eurasia, Kazakhstan's Evolving Foreign Economic and Security Interests was released in June 2015 by the Center for Strategic International Studies.  The report is available as a free downloadable PDF by clicking the cover image  or for purchase at http://csis.org/publication/central-asia-reconnecting-eurasia-kazakhstan.
For printable fast facts about Kazakhstan and the Open World Leadership Program, see the attachment links below.
Thank you for your interest and support of Nevada City Rotary and Open World Kazakhstan Visit! 
Сау болыңыз!
More information about Kazakhstan: